Weapon Of Choice (Crime & Mystery Box Set Vol.1): 8 Complete Novels & Novellas from your Favorite Crime & Mystery Authors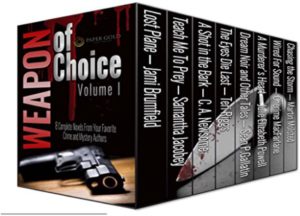 WEAPON OF CHOICE is an astounding collection of crime and mystery stories, suspenseful, ingenious and captivating, with original features that will lead your imagination on a wild adventure. Over TWO volumes, you can find 16 new worlds to explore, 16 mysteries to investigate, 16 new sets of characters to root for — who can ask for more? The perfect companion for a leisurely weekend away is at your fingertips. Add it to your kindle with one click now.
THIS VOLUME INCLUDES THE FOLLOWING TITLES:
Chasing the Storm — Martin Molsted
Wired For Sound — Cherime MacFarlane
A Murderer's Heart — Julie Elizabeth Powell
Dream Noir and Other Tales — Sean P.Gallatin
The Eyes Die Last — Teri Riggs
A Shot in the Bark — C. A. Newsome
Teach Me To Prey — Samantha Jacobey
Lost Plane — Jami Brumfield
Due to mature content, situations and language, this collection is recommended for audiences 18+. All works in this box set have been professionally proofed by Paper Gold Publishing and RE Hargrave, unless this service was expressly refused by the author. Some stories are written in American, some in Canadian, and some in British English. The authors have chosen to stay true to their heritage.
Includes a mix of already released and never-before seen stories, all complete works. Those books which are part of a series can be enjoyed fully without the need to read the complete series (though there is a chance you might develop story-addiction issues—for that, we apologize).