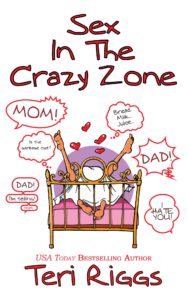 Angie, a stay-at-home mom, and Ben, a successful lawyer are happily married and living the American dream with their four adorable, rambunctious children…who insist on sleeping with them each and every night. To keep their sex life intact, Ben and Angie are willing to try anything, anywhere, anytime.
Parents of small children will relate to the hilarious mishaps and heartwarming romance Angie and Ben discover in pursuit of sex in the crazy zone.
This short story is meant for readers over the age of 18. If curse words and graphic sex offend you, this story is not for you. If you love rolling-on-the-floor laughter and fun, this is the story for you.